Safety alert
Deficiencies in a particular brand of hydrostatic release units for liferafts
May 25, 2010
The Maritime Department of the Swedish Transport Agency has identified deficiencies in a particular brand of hydrostatic release units for liferafts. Holders of hydrostatic release units are recommended to check if the brand Fenner is on board and, if so, replace them.
The Swedish Transport Agency has recently discovered that the hydrostatic release unit type Fenner Hydrostatic Release Units for Liferaft (HRU) did not meet the quality requirements set by International Maritime Organization IMO.

Maritime Department surveyors have bought and tested the performance of 10 new units and the results showed that 9 of the 10 tested units did not work according to set requirements.

Only 1 of 10 HRU's was activated in less than 4 meters water depth, which is a requirement.
Only 2 of 10 (including one exceeding 4 meters depth) cut off the line completely.

Lloyds Register, which has type approved these products, has been informed of the deficiencies and intends to withdraw the product's type approval certificate.

The Swedish Transport Agency would like to alert the shipping industry and owners of hydrostatic release units to investigate whether Fenner HRU is on board and, if so, immediately replace them with other type approved wheel marked brands.
MOB Boat fell
January 12, 2010
During a drill an accident occurred with a MOB boat. The boat fell from its fixed position when the function of the release hook was showing.
During a drill an accident occurred with a MOB boat of Schat-Harding make onboard a tanker when at anchorage outside Rotterdam, the Netherlands. Three crewmembers, Safety officer, 1: st Engineer and AB, went into the boat and the AB released the lashings. The safety officer was about to show the 1: st engineer the function of the release hook and when pulling the handle (A) the MOB boat was released and fell from its fixed position in the davit into the water about 14 meters down.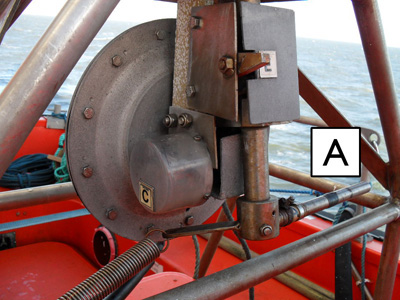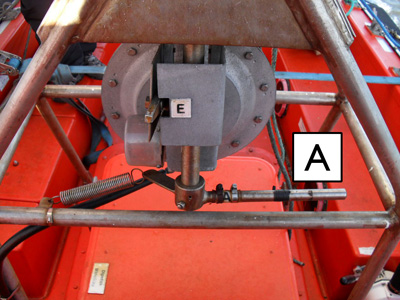 Inspection by the maker and the classification company after the accident shows that the interlock lever (D) from the hydrostatic unit was stuck in the unlocked position. This interlock lever should come automatically back to the locked position by a spring but this automatic return did not function and was found stuck. Thus it was possible to release the boat from its position in the davit.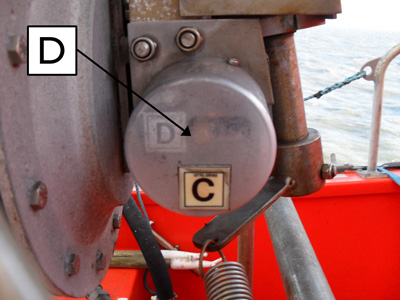 The Swedish Transport Agency recommends that vessels with the same or similar construction of MOB boat release mechanism make sure that the interlock lever is in the locked position after every time the MOB boat has been used and before releasing the lashings of the boat during drills.